Business App
$39.95 *$9.95/month
Save 75%. Limited time offer. 30 day money-back guarantee.
BUY NOW
Run your business effortlessly
Desktop, tablet, mobile
Generate PDF quotes, invoices, time-charts, forms
Email PDF, 1-click
Powerful calendar, easy to use
Booking confirmations
Arrival confirmation
Chart and notes
Upload customer documents to chart
Task manager
Feature rich, highly customizable
Supports multiple billing companies
Health, practitioners, law, construction, and more!
VIP concierge service and support
Private database, single tenant
SSL security certificate
Custom features on demand
Full Incremental Backups
*Monthly rates apply:
$1.50/Gb file storage – first 1Gb included
$5 per 1,000 clients – first 1,000 clients included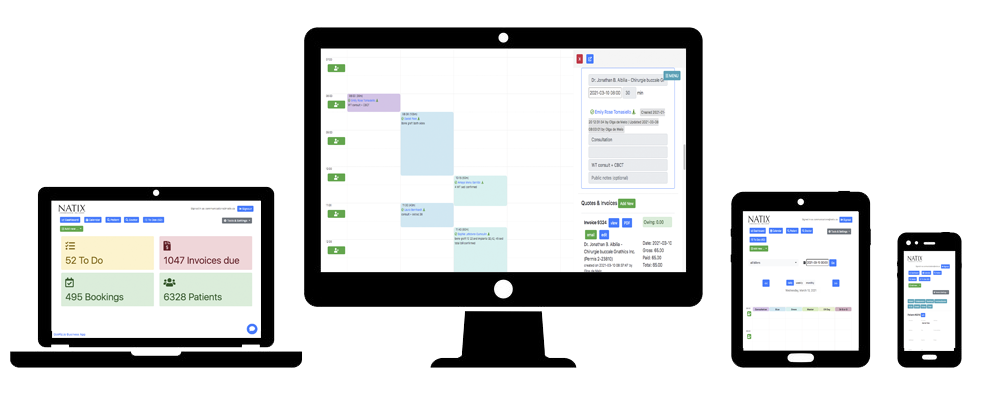 Boost your sales with the GoWiz Business App.

Simple to use.
Scared of learning curves? Easy to learn. Hit the ground running.

Feature rich.
Bookings, invoicing, estimates, forms, charts, to do list, prepaired emails, and more.

Customized to your industry.
Health, dental, law, construction, driving schools, and more!

Multi-screen, one look.
Works beautifuly on desktop, tablet, and mobile.

24/7 expert assistance.
Chat and hand-holding with an expert right from your App.

White label.
Your App will run using your domain and company logo.

One click emails.
Send booking confirmations, PDFs, and emails using one click.

Accounting functions.
Export invoices, line items, payments, taxed items, and more.

Your private database.
Your App will run on your own database that only you can access, isolated from other Apps.